The retail business today in the US and Canada has become more competitive and more complicated than ever before.
Today we have Amazon, many speciality retailers with web sites, endless malls as well as the older main street stores. Consumers are faced with a dizzying selection of outlets where they can buy their goods and services. Many retailers now home deliver.
We also have many new ways of presenting our message to consumers. As well as the mainstays of print, radio and TV we have the internet. We have Ad words, You Tube, Facebook, Instagram, twitter and email. We have PCs, tablets and smartphones. All of which can present a marketing message directly to the consumer.
We have "experts" who create sites to perform product reviews to advise and guide potential consumers and to rate products and services. These range from simple blogs to sophisticated comparison shopping sites.
In this dizzying array of retailers, outlets, products, services, customer touch points, web sites and bloggers you must find a way to help your company come up with the best new ideas to promote your companies products and services. This is not a "one size fits all point and click and show me the report" problem. This requires a complete understanding of your business and how to most effectively optimise your business using a comprehensive BI approach.
Your role as a retail marketing analyst is as exciting as it is challenging. The complexity of the information you are faced with along with the pressure of making recommendations on faster and faster time cycles means yours has become one of the most exciting and challenging positions in retail companies.
Management Decision Making Process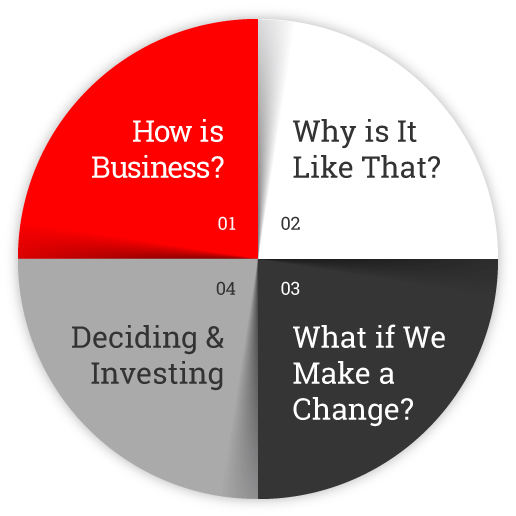 Your job is to monitor "how is business", develop a deep understanding of "why is our business like that". Then, the most exciting part, the most creative part? You must think of new ideas centred on "what if we did something different?"
You can not win by thinking the same way as your competitors. "Think Different" Steve Jobs said in 1984. In doing so Steve Jobs "changed the world". You can too!
The big decisions can not be made without solid data analysis and a high probability of success. Unfortunately the tools you have are unlikely to have kept pace.
Many of these problems do not lend themselves to "standard reporting". They require the continued influx of new data sources. Are you endlessly cutting and pasting trying to bring together the data you need from these new and different sources to make your recommendations?
Are you asking questions like these every day of the week?
What are my competitors doing? Pricing? Advertising? Branding? Assortment?
How are we doing vs this period last year?
What is our forecast for sales? How reliable is that?
What should be our markdown strategy?
How can we adjust our promotion strategy?
Should we be running some direct campaigns?
How do we leverage the new messaging channels?
What else might we change to improve our profitability?
Are you asking many, many other questions that are more complex and more detailed than these? Are you looking for help? Then look no more.
Meta5 is the worlds most sophisticated Data Analysis Desktop. Designed from the ground up to enable data analysis professionals just like you to bring together data from any source to your desktop where you can manipulate it with ease to solve your toughest problems.
Our unique visual programming interface means you, the "power data analyst", can create your own sophisticated and complex analytics without writing computer code. You can easily answer those ad-hoc questions that you have never even been able to answer before. . Questions that if answered will be the difference that keeps you business on the cutting-edge
We provide you with over 150 tools in a fully integrated Data Analysis Desktop. With this you can get your job done about 5 times faster than using other tools on the marketplace.
This is what a simple capsule" might look like. You can build capsules with hundreds of icons with the greatest of ease. Notice how easy it is to understand.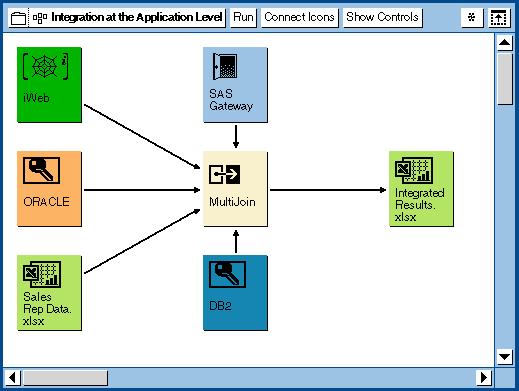 This capsule draws data from SAS, a web page, Oracle, a spreadsheet and DB2. It joins it all together and puts it in to one finished spreadsheet. This is how easy it is to integrate date in Meta5.
If you are a retail "power data analyst" for such areas as marketing, sales, promotions, merchandising and you are struggling to "get the job done" with the likes of Business Objects, Cognos, Microstrategy, Microsoft or the many other tools our there?,
If you can not get all the data in to your desktop to analyse as you want in an easy and intuitive way? We have what you need. The worlds most sophisticated and mature integrated Data Analysis Desktop. Meta5.
Want to see more? Check out our video demonstrations. Then give us a call on 866 Meta555 to find out more about Meta5.